NEASC Accreditation
Grounded in the experience and expertise of practicing educators since 1885, NEASC Accreditation is a respected, effective, and time-tested methodology for school improvement and growth. It is not a single event, but rather an ongoing, voluntary cycle of comprehensive internal and external assessments, short- and long-term strategic planning, and periodic reporting sustained by professional partnership and support. It is intended to serve as a framework for schools to meet their own unique goals for student learning while maintaining alignment with research-based Standards for Accreditation that define the characteristics of high quality, effective learning communities. It also serves to assess the systems in place for ongoing institutional self-reflection and a school's commitment to and capacity for continuous growth and/or transformation.
Accreditation is founded on the principle that comprehensive self-reflection followed by candid feedback from professional peers is essential to ongoing school improvement and achieving educational success. Guided by research-based standards, which are periodically reviewed and revised by leading New England educators, accreditation provides a clear direction for school communities striving to ensure their students receive outstanding educational experiences.
- Cameron C. Staples, President/CEO of NEASC
The Process
The Ongoing Cycle of Accreditation
Accreditation is not a single event, but rather an ongoing, voluntary cycle of comprehensive internal and external assessments, short- and long-term strategic planning, and periodic reporting sustained by professional partnership and support. Member schools must periodically demonstrate continued alignment with NEASC Standards in order to maintain their NEASC Accreditation/Membership.
Image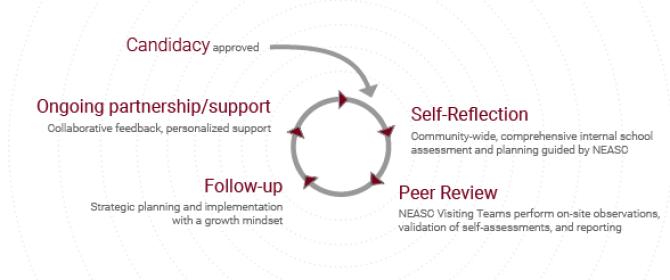 Phases of NEASC Accreditation
Accreditation is structured in three main phases:
Reflection
Member institutions undergo a rigorous and comprehensive Self-Reflection. The process engages the entire educational community — faculty, administrators, staff, students, community members, and board members — in structured analysis, self-assessment, and planning in response to the Standards of Accreditation.
Review
Each year volunteers contribute 250,000+ combined hours of their time to conduct professional peer reviews — the heart of NEASC Accreditation. Trained volunteers from the educational community work together as a team to visit each school undergoing an accreditation review to conduct on-site, objective assessments. These "Visiting Teams" evaluate the school's alignment with the appropriate commission standards — a process that includes observations of teaching and learning, conducting interviews, reviewing reports by and about the school, validating the school's self-reflection, identifying areas of strength, and making recommendations to assist with better alignment with the Standards, school improvement, growth, and future planning.
Renewal
Follow-up
Following receipt of the Visiting Team report(s), school personnel then respond to recommendations stated in the Visiting Team Report by designing and implementing short- and long-range plans for improvement and growth. Strategic planning and regular follow-up reports are monitored by a commission of elected peers and overseen by a professional staff to ensure that goals and recommended institutional improvement can be accomplished.
Ongoing partnership/support
Additional personalized support and/or intervention is provided, as necessary, to respond to information gathered through collaborative feedback and regular reports from the institution or through comments from the public concerning a failure to comply with the Standards. The NEASC Commissions are authorized to conduct on-site evaluations at shorter intervals if institutional circumstances so dictate. 
Getting Started
A school interested in accreditation begins by applying for candidacy and must demonstrate that it has the basic structures, policies, and systems in place to support a quality learning environment. Once a school has been recognized as a NEASC Candidate for Accreditation, the cycle commences. The nature and timing of reviews and other assessment tools guided by the various NEASC accreditation protocols may vary, but all have at their core a rigorous and comprehensive self-reflection process followed by an on-site evaluation conducted by a team of trained peers from the educational community, follow-up reporting*, strategic planning, implementation, and ongoing personalized support. 
* Because each school is reviewed based upon its unique characteristics and applications of the NEASC Standards, no two peer review reports will be alike.
Video: An introduction to NEASC Accreditation